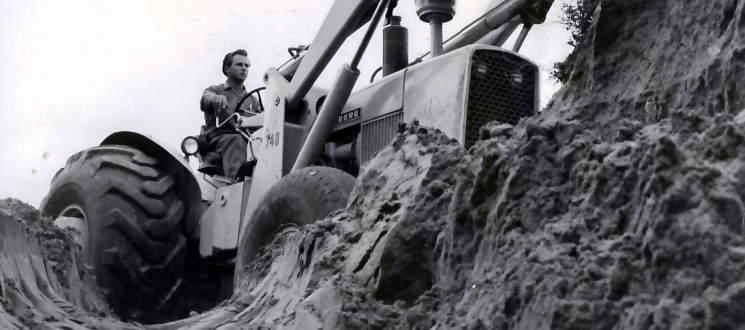 Eichler Earthmovers have been servicing South Australia and beyond for 50 years. More than just Earthmoving and Civil Works, we have proudly serviced the Murraylands with professional and prompt delivery of Concrete, Earthmoving Services, Landscaping, Firewood and Building Supplies.
Since our inception, the company has continued to expand and meet the demands of the various industries, built strong partnerships with clients and subcontractors within the Government and private sectors throughout South Australia and pride ourselves with continuously improving to meet the industry obligations of legislative compliance. We have remained Mannum based throughout our success and supporting local is something we continue to prioritise.
Excellence in Quality Performance
We recognise that excellence in Quality Performance work providing our clients with value for money is integral to an efficient and successful business. Constantly pursuing high standards of business performance in all of our activities. Committed to providing a safe and healthy work environment, whilst minimising environmental impact and producing quality work in the required timeframe.
We pride ourselves on providing well maintained high quality plant and equipment, along with experienced and trained staff, offering work – life balance and management commitment to improved business performance monitoring.
Civil Contractors Federation SA
In 2017, we were proud to be inducted into the Civil Contractors Federation SA Hall of Fame for sustained contribution to the Industry. The Civil Contractors Federation is the peak body representing Australia's civil construction industry, supporting members' businesses and providing a unified voice to all levels of government. The CCF has branches in all states and territories and has around 2000 Contractor and Associate members nationally.
Celebrating 50 years in 2020
Eichler proudly celebrates its 50th year in business.  Incorporated since 1970, its inception was in the fifties, where the founder Cec Eichler realised an opportunity for Earthmoving after the famous 1956 flood.  The flood presented a need for rebuilding the destroyed levy banks, and the rest is "history". 50 years on, Eichler is stronger than ever, our client book is growing by the day, and we continue to be just as passionate about supporting local as we are supporting South Australia and beyond.